Lindsey Marshal – Sheer lingerie
Welcome back everyone, we are so happy to share with you another very sexy update featuring our one and only drop dead gorgeous babe, Lindsey. What better thing to do on a lazy afternoon than relax and enjoy a really good book, and that is exactly what our naughty blonde had in mind, lounging in a provocative way on her couch wearing nothing else but sheer racy purple lingerie. Somewhere along the way, Lindsey started craving for some hot action so she starts caressing her fresh perky tits, and at the same time tries to focus on her reading.
Let's just say it was not a great success as our naughty teen soon realized that she just wants to cum. She's really in the mood, and while lying on her white sofa, she's squeezing those delicious round tits together, toying and pinching her nipples until they turn hard and point out like steel arrows. Her see through top is still on but it's so sheer and silky it just ads to her erotic sensation. This slut's hands are all over that naughty sexy body, touching herself, loaded with desire and gently going down on her slit, her hand wondering all over that juicy cunt. She plays with it, eventually taking off her panties, spreads her fresh pussy lips apart and starts hammering hard on her clit. Our babe is moaning in ecstatic pleasure and slides her finger in and out, faster and harder and doesn't stop until she gets to cum.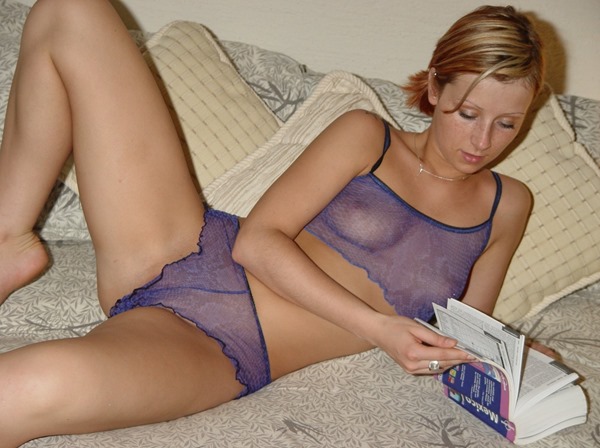 Check out hot Lindsey posing in sexy purple lingerie!